Friday, 06.10.06

During breakfast a shoal of dolphins passed by in front of our terrace - what a nice farewell!
Our next destination was Plettenberg Bay and the Robberg Peninsula Nature Reserve. The peninsula is home to a colony of cape fur seals and there are hiking trails of different length. A large dune crosses the peninsula about halfway and leads to a small island off the western shore.

The path runs high above the sea level


View from The Gap


Seal colony


The seals like to play





View over the dune to the island


View from the island

After returning to the car we hit the famous Garden Route to Knysna. The Knysna Lagoon is bordered by two rocks called The Heads.
It was quite shocking when we were descending down the street and saw the two islands in the lagoon being over and over crowded with bungalows with barely one green spot left. We definitely expected something different... Even the eastern Head is spoilt with buildings. Only the western Head looks quite naturally housing the private Featherbed Nature Reserve.
We almost decided to drive on but then made up our mind to have something to eat so we drove out to the eastern Head. This proved to be a good decision because the food was nice and we even could watch two whales splashing in the lagoon just in front of the restaurant. Being out there at waterīs level one canīt see too much of the rest of the lagoon and the isles - one big advantage...

Eastern and Western Head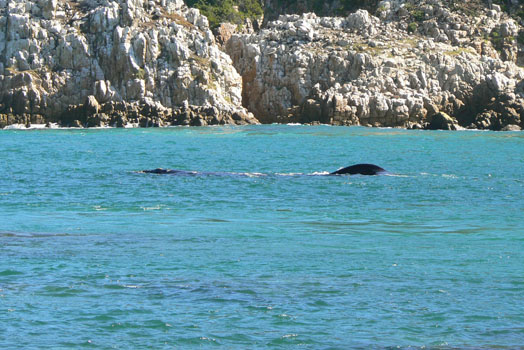 Whale in the lagoon
Anyway we really canīt share the enthusiasm of both tourists and South Africans for Knysna. But by then we didnīt know what was next to come...
It is not far from Knysna to Wilderness and so we soon reached Wilderness National Park consisting of another lagoon and a few lakes.
Wilderness is a most unusual National Park - a motorway cutting through it separating the inland sections from the sea. The miles long white beach was the only highlight for us. At some of the hiking trails one even has to cross the motorway and other trails run between a town road and the lagoon. Wilderness itself - except for a small town centre around a fuel station, a hotel and some shops - mainly consists of bungalows scattered unordered at the hillside and around the lagoon. Again, something unexpected...
Our disappointment was so great we did not make even one picture. And so we were really glad to move on the next day. =>

Index 1 2 3 4 5 6 7 8 9 10 11 12 13 14 15 16 17 18 19 20 21 Links