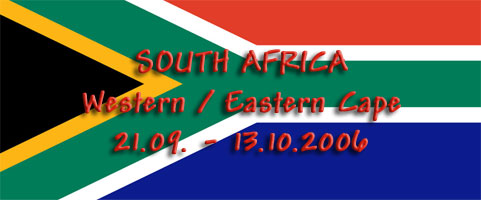 The initial impulse for our South Africa trip was a TV show featuring Namaqualand - a semi-desert changing into a sea of flowers in spring. In addition I always wanted to set my feet at the Cape of Good Hope.
For our journey we chose the south african spring at the end of September / early October. The chance to see the flowers in bloom is still high and the weather is improving after the typically rather wet and cold winter.
After reading through countless internet sites I bought travel books and road maps and planned our route. We also booked our B&Bs by email which worked very well - and we made a very good choice with all of them.

Our route started at the Winelands. Then we drove to the West Coast and the Cederberg Mountains. Heading back to the Breede River Valley and through Little and Great Karoo we then visited several National Parks. Down to the coast we took to the Garden Route and by passing the Whale Coast we finally reached Cape Town where we spent the last 3 nights.

As you can see on the map we only visited a small part of the country but nonetheless covered a distance of more than 4.000 km in 21 days. There are people doing Kruger Park, the Big Hole in Kimberley and Cape Town in 10 or 14 days but thatīs not our idea of vacation and recreation...
more travel reports (mostly in German):