Thursday, 06.09.2012
Today we wanted to learn something about the famous Harris Tweed. According to the Harris Tweed Act it has to be " handwoven by islanders at their homes in the Outer Hebrides of Scotland, finished in the Outer Hebrides, and made from pure virgin wool dyed and spun in the Outer Hebrides".
Miranda called Donald John MacKay of the Luskentyre Harris Tweed Company to ask if we could pay him a visit at his workshop. Donald recently was appointed MBE (Member of the Most Excellent Order of the British Empire) and his designs have been used, amongst others, by Nike and Clarks.
First we visited Harris Tweed Isle of Harris in Tarbert. It is the biggest Tweed shop on the island with a tremendous stock of Tweed designs.
| | |
| --- | --- |
| lots of choices | the orb |
After that we headed for Luskentyre. Donald explained the process of weaving and also the mechanics of the Hattersley Loom which is a true engineering marvel. We also learned that due to the increased demand for Harris Tweed the manufacturing and marketing of the famous cloth has even become a subject in school.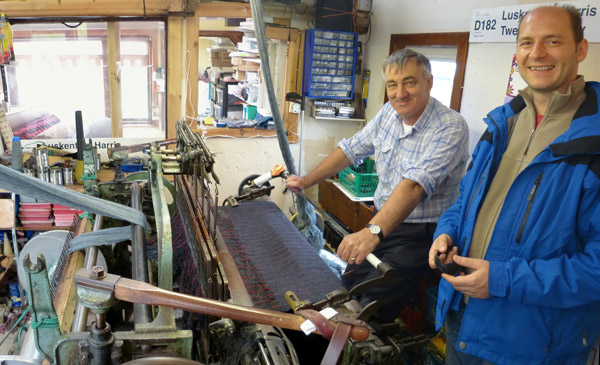 Donald and his Hattersley Loom

We then visited several Tweed shops along the Golden Road and also made a detour to Scalpay. As usual we met more sheep than cars on the road.


| | |
| --- | --- |
| highway(wo)men | Where's the bus? |

Back home we met Angus in his workshop and together we went to visit the cattle family.


| | |
| --- | --- |
| granny... | ... and grandson |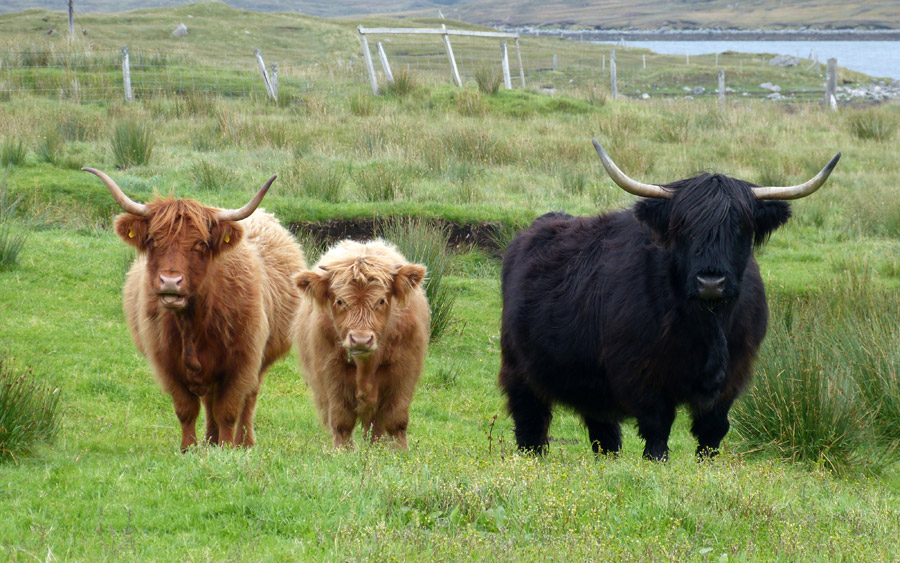 family portrait

In the cosy conservatory we had some tea and the pieces of cake we got for provisions from Miranda after breakfast.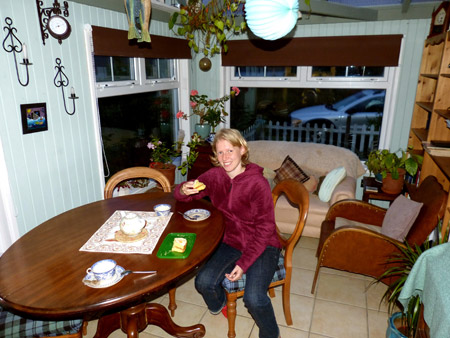 Very British!

When we talked about the crofting life in the evening Angus suggested that we should try sheep-shearing tomorrow (again, there was some whisky involved...). First I thought he was joking but apparently he was quite serious about it.

To the next day
=>