Wednesday, 05.09.2012
In the
nice and sunny
morning we were greeted by Spencer the Siamese tomcat.


| | |
| --- | --- |
| morning view over Loch Seaforth | Spencer |
At breakfast we asked Miranda and Angus if they could suggest places for seal watching. After calling a fisherman who confirmed that the sea was
still
too rough for a boat trip they recommended to drive along the Golden Road on the southeast coast to Finsbay.

We spotted the first seals near Flodabay and when we arrived at Loch Finsbay we found a group of seals basking on the rocks not far from the shore. We spent over an hour watching the animals and taking photos. The seal pups were very curious and hilariously leaping out of the water like dolphins.
| | |
| --- | --- |
| Flodabay seals | Who's there? |
| itchy | |
| | so curious |

We continued on the Golden Road along the rugged southeast coast with its fjord-like inlets.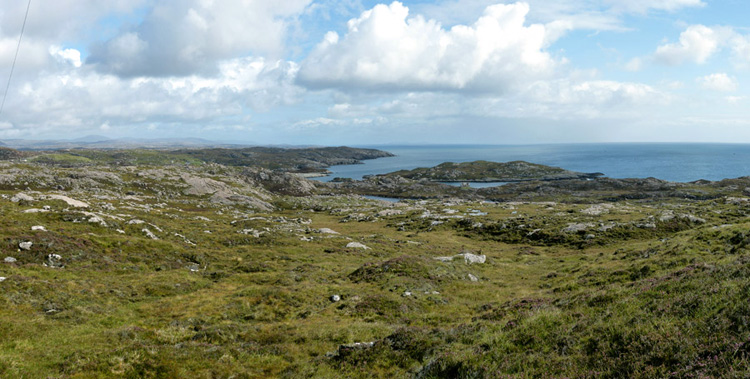 At Rodel on the southernmost tip of Harris we visited St. Clement's Church,

built for the Chiefs of the MacLeods of Harris

. The church is thought to be the best preserved medieval building on the Western Isles. The wall tomb of Alastair (Alexander) MacLeod is decorated with fine carvings of religious and everyday scenes like a hunting party or a Birlinn, the Scottish version of a viking longship.





St. Clement's Church
| | |
| --- | --- |
| | Alexander MacLeod's tomb |

detail view

In contrast to the wild east coast there are a number of magnificent white sandy beaches strung out along the west coast. The first of them is near Scarista. At Tràigh Mhòr we spotted a large bird of prey, which Angus later identified as a Sea Eagle.



Scarista Beach with Ceapabhal
| | |
| --- | --- |
| Tràigh Mhòr | a Sea Eagle |
At the Hebrides Art Café we enjoyed tea and cake as well as the wonderful views of Luskentyre bay.


After this break we headed for Luskentyre Beach. The water was quite cool but we fearlessly walked in up to our knees.

Luskentyre and Seilebost Beach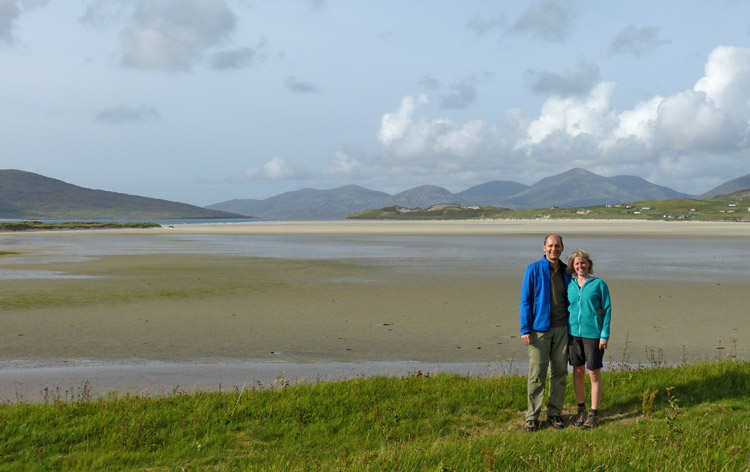 in the dunes of Luskentyre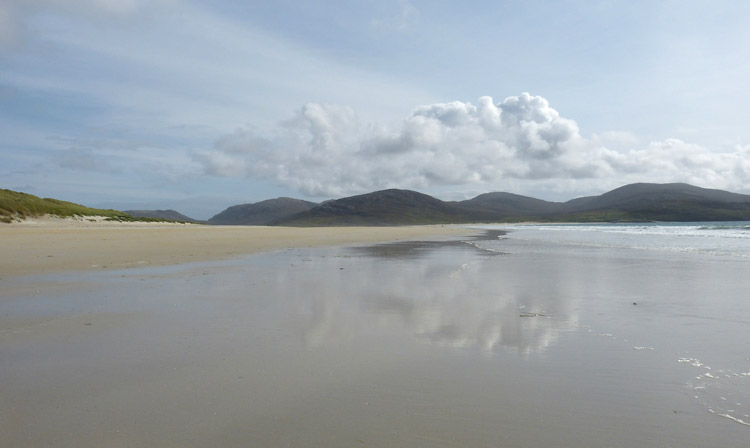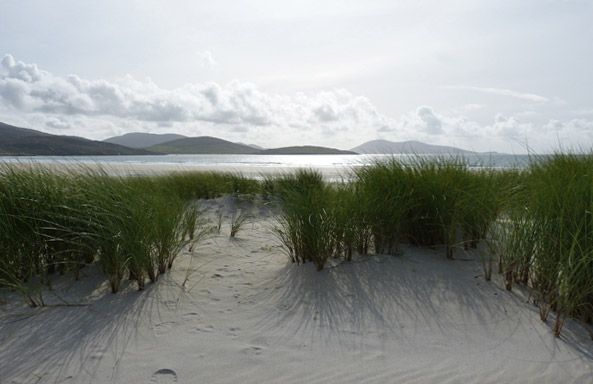 After an extended beach walk we drove back through the mountains of North Harris to the Callanish Stones.



the road to Huisinis with the remains of a whaling station (in fact, only the chimney is all that's left)

At Callanish there are several sites with standing stones of which Callanish I is the most famous. Two more sites - Callanish II and III - are within easy walking distance and can be connected to a nice loop. Even though it is comparable in size and age Callanish is much less known than Stonehenge probably due to its remote location.

We had been hoping for a spectacular sunset, but the light was rather diffuse. However, we managed to get some quite nice pictures.



Callanish I
| | |
| --- | --- |
| Dagmar and 3 billion years old stones | one of the lawn-mowers of Callanish |
| Callanish III | |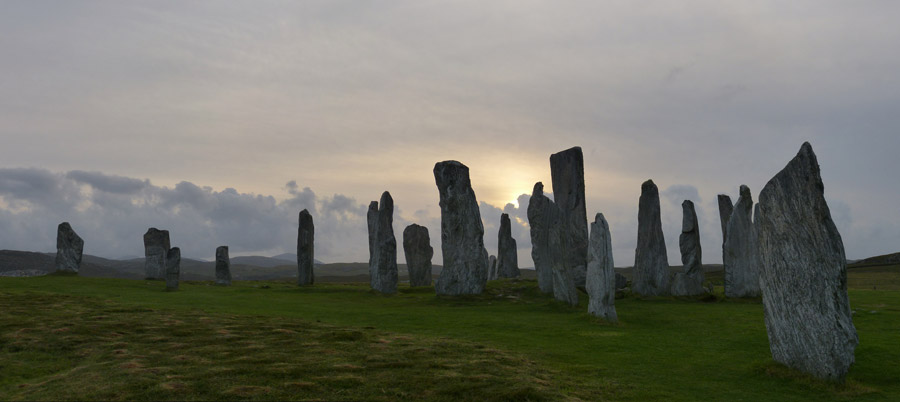 In the evening we had a very nice chat with Miranda and Angus accompanied by a glass of whisky.


To the next day
=>