Monday, 27.08.2012
We decided to start this rainy morning with an indoor programme.

First we visited Inveraray Castle, the seat of Clan Campbell. The current 13th Duke of Argyll Torquhil Ian Campbell served as a page to Queen Elizabeth II in the early 1980s and holds a long list of titles, including "Master of the Royal Household of Scotland". He is also captain of Scotland's national elephant polo team (that's no joke!).

| | |
| --- | --- |
| Inveraray Castle | garden view |
Along the shores of Loch Fyne we drove to the Fyne Ales Brewery. I had a very nice dark ale in Benderloch and when I found out that the brewery is not far away we decided to go there.
The small company was established in 2001 and has already managed to win numerous awards over the few years of its existence.
We got a tour by the master brewer himself showing his enthusiasm and expert knowledge. After the tour we tasted three samples of the various brews made here. Dagmar had to drink most of the stuff, since I had to drive the car! We also bought 12 bottles, only half of them making their way to Austria. The others were consumed during our stay in Scotland...


| | |
| --- | --- |
| water supply coming down the hill | Slŕinte! |
The town of Inveraray is of classic Georgian design, but the rain did not promote a longer stay.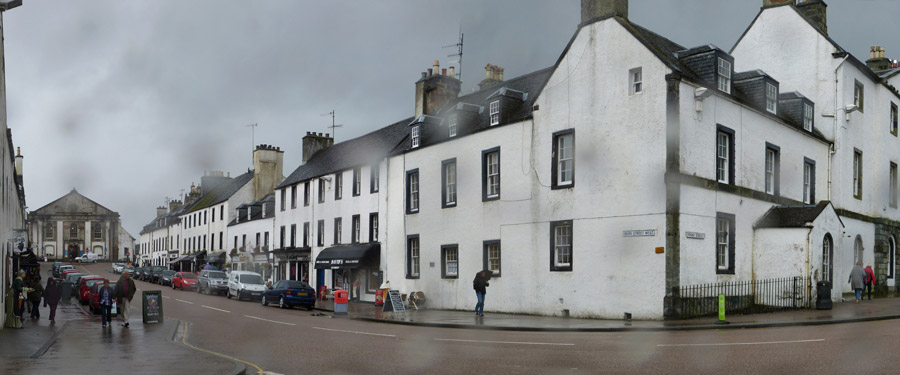 Inveraray

Since the weather forecast for the late afternoon was significantly better we decided to continue our round trip on the A816 and head for Lochgilphead, where we had a light lunch at the Argyll Hotel.

When we arrived at Dunadd Fort the sun finally broke through the clouds and so we climbed the seat of the kings of the ancient kingdom of Dál Riata. Dál Riata was the first Scottish kingdom formed by the Gaelic Irish Scots between 500 and 900 AD. There is not much left of the hill fort, however. A footprint shaped basin is thought to have been part of the coronation rites.


| | |
| --- | --- |
| | Dagmar Queen of Scots |
At the nearby Kilmartin Parish Church graveyard many medieval gravestones carved with knights, swords and other motifs can be found.
Kilmartin Glen also has many Neolithic and Bronze Age monuments such as stone circles, cairns and standing stones.
| | |
| --- | --- |
| Nether Largie South cairn | Lady Glassary Wood Standing Stones |
At Knapdale Forest beavers had been successfully reintroduced to Scotland. We walked a short way on the trail but could not see any of the animals. Still, it was a nice woodland walk.

To the next day
=>