Monday, 03.09.2012
Today we wanted to climb Stac Pollaidh. The summit is at just 612 m, which is not very high even for Scottish mountains but the terrain is very rugged up there with many pinnacles and vertical drops.

When we were almost there Dagmar found out that she had forgotten her jacket at the B&B. So we had to drive back again, but when we approached the second time the clouds at least had unveiled the top.


| | |
| --- | --- |
| first try | back again |

The midges attacked us fiercely when we pulled on our boots and so we started the climb immediately to escape these little devils.

The higher we climbed the more spectacular became the views over the Assynt landscape.


Suilven, Canisp and Cul Mor

Soon we reached the saddle between the eastern
and
western
summit. Up there exists a somewhat confusing maze of tracks and we were not always sure which one to take. When the wind refreshed once more and dark clouds appeared we were glad to find the descent route just before the western summit.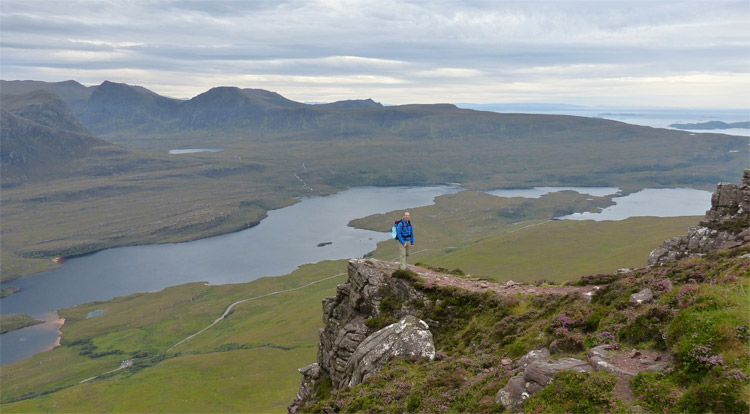 high above Loch Lurgainn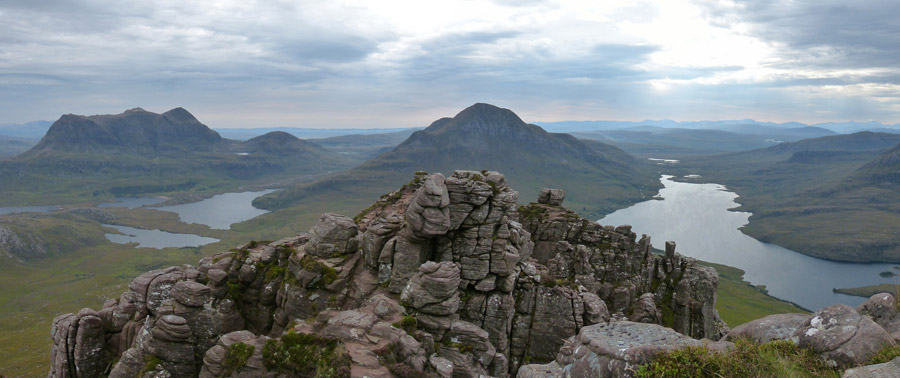 on the ridge
| | |
| --- | --- |
| dark clouds shorten our rest | the steep descent |
By now it had started to rain and the wind beat the drops right in our face - it almost felt like hail. But soon it was over again and we arrived safely back at the car.
| | |
| --- | --- |
| | we were there |
From the road to Lochinver the mountain looks completely different.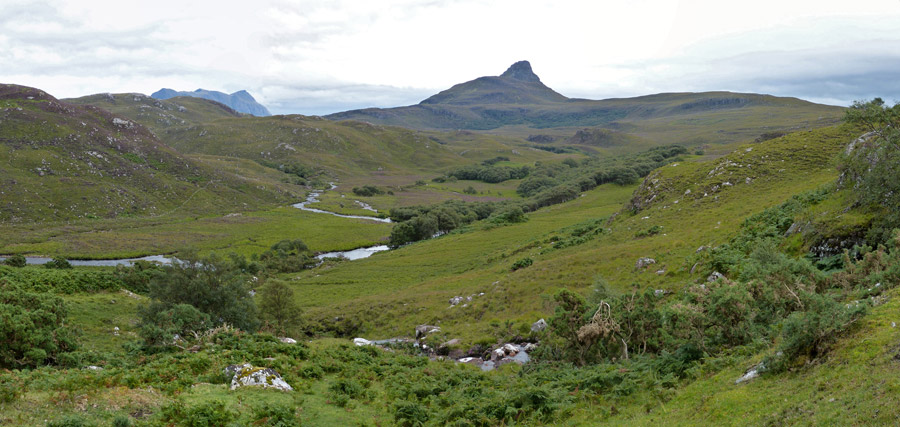 Stac Pollaidh from the northwest

At the coast near Inverkirkaig we could spot some seals, this time a good deal nearer.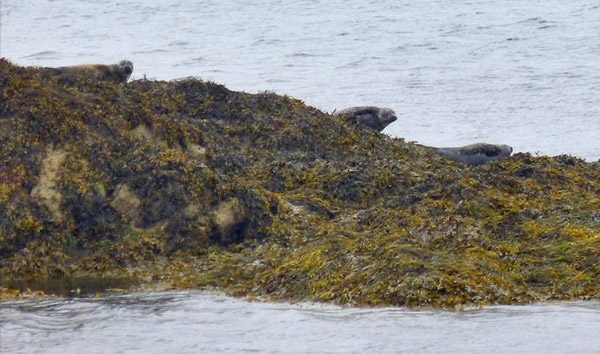 After a brief stop at the Assynt Visitor Centre in Lochinver we continued to Achmelvich - one of the many magnificent beaches along the west coast with white sands and azure waters.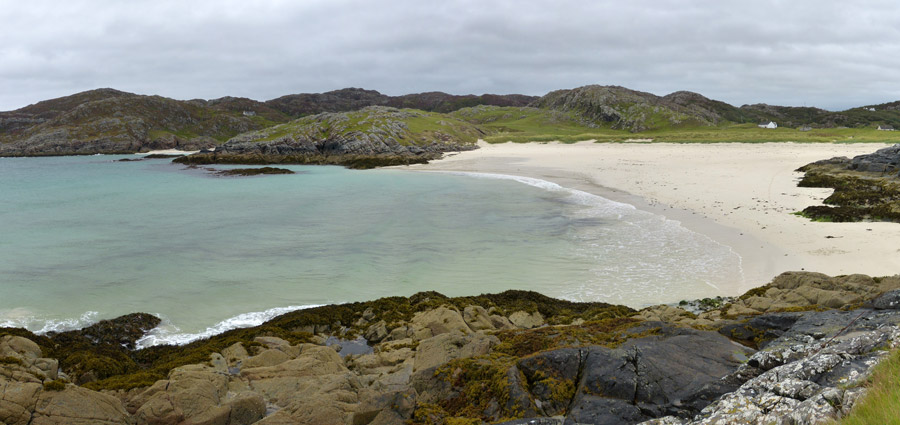 | | |
| --- | --- |
| 2-legged... | ... and 4-legged beach guests |
At the Stoer Head Lighthouse the wind almost blew us from the cliffs. So we just made some pictures and escaped back into the car.


| | |
| --- | --- |
| Stoer Lighthouse | breaking waves |
On the way back to Ullapool we stopped for dinner at the Lochinver Larder to sample the famous pies. We had a delicious Savoury Lamb Pie and an equally excellent Venison & Cranberry Pie.

At Loch Assynt we jumped out of the car to shoot a picture of the ruins of Ardvreck Castle before driving the last stretch home in the pouring rain.


Ardvreck Castle at Loch Assynt
To the next day
=>