Thursday, 03.03.2011


8 o'clock in the morning a minibus picked us up at the reception, and after collecting the rest of the passengers we headed straight for Krabi.

In Krabi we stopped at an assembly point where we were divided according to our destinations and after purchasing the ferry tickets we only had to wait for the transport to the pier - everything was organised to perfection.

The ferry to Koh Lanta does not call in at Koh Jum. Instead you have to change boat at the open sea and then get transported by long-tail to the island resorts. There are two changing points: Koh Pu (as the northern part of the island is called) and Koh Jum. We had booked our room at Ting Rai Bay Resort which is located in the less developed northern part.

The ferry "Concorde" did not at all justify its name and made for a very leisurely travel speed taking almost one hour for the 25 km distance.

When we approached the island we could already see the long-tails swarming from the resorts. The boat change was not as tricky as expected and soon we were seated in our boat among food and Chang and Singha beer. Since Koh Jum is a very small island most of the hotels' provisions are delivered by boat.




Map created with: http://www.stepmap.de/


Koh Pu in sight


| | |
| --- | --- |
| already on board | the boat change from some distance |
The long-tail headed towards the beach and soon we could see Ting Rai Bay Resort surrounded by the lush green vegetation. We were welcomed with a drink and then settled in to our bungalow. We even had two king-size beds!

| | |
| --- | --- |
| Land in sight! | our bungalow |
| | the colourful bathroom |
| | |


Of course we had to check out the beach immediately. There are some thatched platforms conveniently accommodating two persons, a few hammocks hung between the trees and also some sun loungers. The light-coloured fine sand is very nice and the water is soon deep enough for swimming at higher tides. However, the sea withdraws quite far at low tide so some rocks become exposed.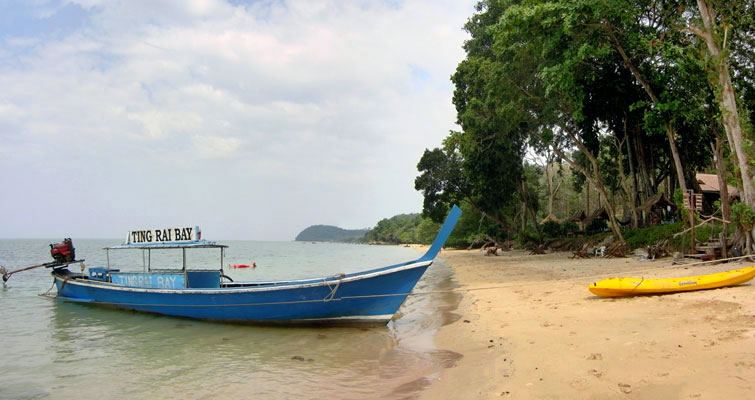 We spent the day relaxing and simply enjoyed ourselves. Tomorrow we planned to hire a scooter to do some island exploring.
=>