Friday, 25.02.2011

Today we had set our alarm
clock
to watch the sun rise over the limestone islets in the Phang Nga Bay. We even could stay in bed for that - truly not an everyday experience!


| | |
| --- | --- |
| showtime | |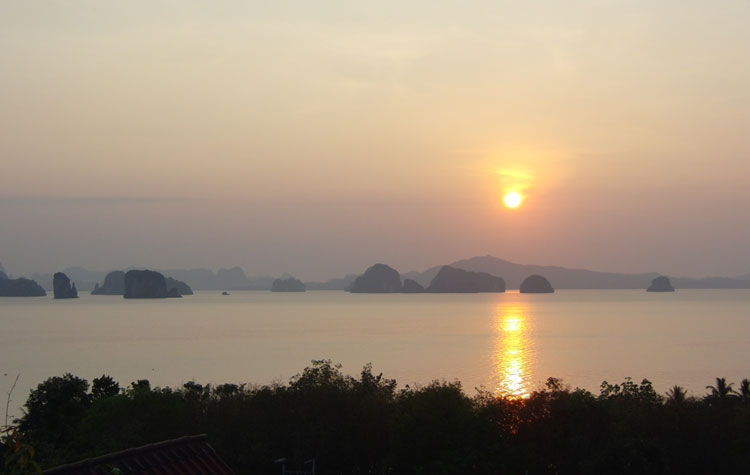 tadaa!!


After breakfast we picked up our 125 cc automatic scooter. Here everything is so easy - there is no contract, nobody asks about a driver's licence and the requirement to wear a helmet is in the best case taken as a suggestion. After our hostess Kazuyo had marked some interesting spots on an island map we started our discovery tour. First we headed for the market to buy some water for the day.
| | |
| --- | --- |
| street market in Ban Yai | Easy Rider |

fishing boats at the mangrove coast



We drove along the west coast heading north. There are many paddy fields and we also saw a couple of water buffalo. After passing the small fishing village at An Po Pier we headed further north until we reached a palm lined sandy beach - picture-perfect!


| | |
| --- | --- |
| water buffalo | shallow bay on the west coast |
| | coconut seedling |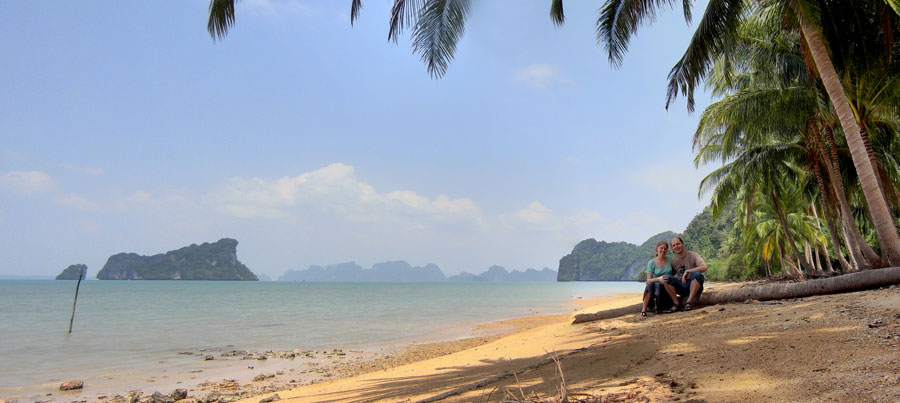 Shortly after this idyllic beach we reached the end of the street and had to turn around. Since it was after noon already we decided to return to the Pradu Seafood Restaurant which we had seen at An Po Pier. There we had some excellent crab and shrimps.


| | |
| --- | --- |
| fishermen in the mangroves, returning from their trip | An Po Pier |
| what to take? | Lemon Crab and Tamarind Shrimps have been delicious! |


After lunch we continued to the interior of the island heading on a very rough and bumpy track for the Paradise Resort. This high-price resort lies very secluded all the way up north and can only be reached by boat. So here you are literally "prisoner in paradise".


| | |
| --- | --- |
| rubber and palm plantations in the interior | a rubber press |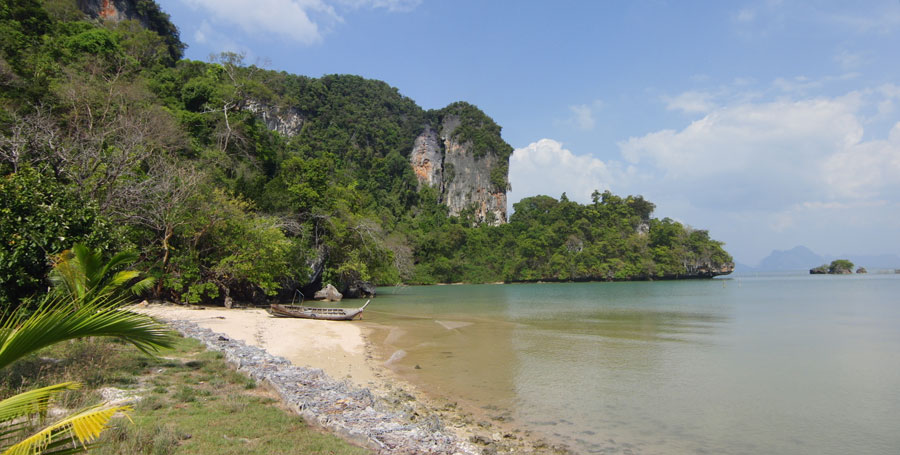 beach at the Paradise Resort



On our way back we were unsuccessfully looking for a quiet beach Kazuyo had marked on our map, but we could only find a very shallow lagoon with knee-deep and therefore unpleasantly warm water. Since it was a very hot day and we were growing tired anyway we returned to our resort.

In the evening we visited the market again for some snacks and sweet banana rotis. We then asked Kazuyo about a boat trip to some nearby islands, which we planned for the day after tomorrow. Tomorrow the only thing on schedule was relaxing!

=>